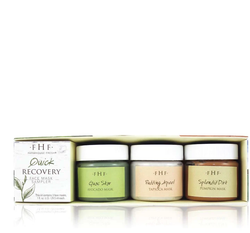 FarmHouse Fresh Quick Recovery Face Mask Sampler
SKU: FHF-1376
Our favorite fresh face masks have come together in the ultimate face-rejuvenation travel trio! This kit comes ready to hydrate with Guac Star Avocado Mask, boost radiance with Splendid Dirt Organic Pumpkin Mud Mask, and exfoliate to smooth perfection with Pudding Apeel Tapioca Glycolic Mask.
GUAC STAR - SOOTHING AVOCADO HYDRATION MASK: Get quenched and chill out with this deep dip of cool hydration! This revitalizing mask is packed with fresh avocado butter, extract and oil to deliver key fatty acids to support the outermost layer of skin that helps protect us from environmental stresses. Put Guac Star in the fridge and try it chilled! Wow! It's better than a cucumber compress! This mask is gentle enough to use daily, so go for the green!
PUDDING APEEL - TAPIOCA + RICE, ACTIVE FRUIT GLYCOLIC MASK: Are you ready for a tingling textural improvement? This gentle resurfacing mask helps slough away dead surface cells, revealing newer, smooth textured skin over time. All of this, with no abrasion needed! As we age, our cell turnover rate and natural exfoliation process slows down. Exfoliation removes dull-looking, old surface cells, and Pudding Apeel is designed to do just that! Glycolic and fruit extract Alpha Hydroxy Acids combine with hydrating honey and coconut milk to infuse skin with moisture as you renew. Tapioca provides a silky feel to skin. Plus, added green tea and honeysuckle extracts help soothe irritations. Give this little guy a few days to work its pudding magic!
SPLENDID DIRT - NUTRIENT MUD MASK WITH ORGANIC PUMPKIN PUREE: Get dirty! Red, blotchy, and oily skin- you've met your mask. Splendid Dirt is a natural, nutrient-rich pot of Illite and Bentonite clays, fresh enzyme-full pumpkin puree, and active yogurt cultures that instantly boosts overall radiance by deep cleansing pores, temporarily shrinking their look, and improving the look of broken capillaries and uneven skin tones. This thick blended puree goes on whipped and velvety smooth, bringing a party-orange pumpkin face that might scare the neighbors, but will seriously de-gunk and help purify even the most congested skin.
You'll feel Splendid Dirt working- a mild tingling sensation begins as oxygenation and circulation increases. 97-99% natural, and like all FarmHouse Fresh products, this face mask sampler kit is Paraben- and Sulfate- free.
Three 1-ounce jars with decorative box