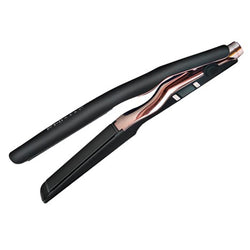 FHI Heat The Curve Pro Styling Iron 1"
SKU: FHI-IN1001
The Curve gets its name from its shape. Its beautiful curved design makes it incredibly ergonomic, fitting right to the curve of your hand. The unique curvature of the plates also allows the hair to glide effortlessly - allowing you to smooth, curl or wave hair in less time! 
Why it's Different.....

Smooth, curl or wave hair in less time then a traditional iron!
HydraHeat™ technology seals in vital moisture, repels humidity, reduce frizz, and helps eliminate static

 

Incredibly ergonomic, fitting right to the curve of your hand!

 

Ceramic plates infused with smoothing tourmaline and magnesium, instantly lock in moisture, leaving hair healthy and hydrated!
RapidTek™ technology instantly heats up from 265°F to 450°F in 10 seconds, making it ideal for all hair types!
Edge to Edge FHI Ceramic Heater offers even temperature and high speed heat recovery for flawless styling
1 hour automatic shut-off
Professional 9ft swivel cord
Universal voltage to style in any setting