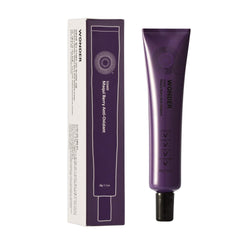 Haruharu Wonder Maqui Berry Anti-Oxidant Cream (38g)
SKU: HAR-6
Maqui Berry grows in alpine environment in Chile, ancient Indian tribes' favorite fruit and one of Top 5 super food.
Compared to other berries, Maqui Berry has rich Anthocyanin, Flavonoid, and Polyphenol that are excellent of anti-oxidant function.
Haruharu WONDER's unique fermentation formula transforms raw ingredients to more flexible configuration for the skin to absorb.
Anti-oxidant, anti-inflammation, and brightening effect of Maqui Berry have significantely increased through our natural fermentation technology.
WONDER pursues powerful absorption utilizing patented natural liposome technology, that is a delivery system for active ingredients to in-depth skin.
Liposome is an empty sphere shaped low-molecular-phospholipid substance.
WONDER's natural liposome made out of naturally-derived materials so it is not only skin-friendly but also excellent at efficient delivery of effective ingredient.
WONDER cream container is designed to separate inner and outer container and transform into potted plants, pencil stand, and storage boxes.