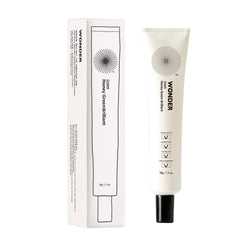 Haruharu Wonder Honey Green Brilliant Cream (38g)
SKU: HAR-9
Green tea is full of polyphenol, flavonoid organic acids, vitamins and amino acids where as honey contains rich proteins, vitamins, organic acids and minerals.
By combining them and process through our fermentation technology, we have created Honey Green which is a powerful skin moisturization with repairing effects.
Haruharu WONDER's unique fermentation formula transforms raw ingredients to more flexible configuration for the skin to absorb.
Fermented green tea with honey has much more soft texture with more powerful brightening, anti-inflammation, and regeneration effect than its original state.
WONDER pursues powerful absorption utilizing patented natural liposome technology, that is a delivery system for active ingredients to in-depth skin.
Liposome is an empty sphere shaped low-molecular-phospholipid substance.
WONDER's natural liposome made out of naturally-derived materials so it is not only skin-friendly but also excellent at efficient delivery of effective ingredient.