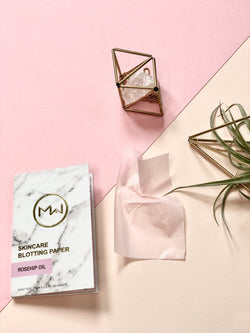 Mai Couture Rose Hip Oil Blotting Paper
SKU: FP-1035
refresh.
What it is: Hypoallergenic blotting papers infused with rose hip oil. 
What it does: Remove dirt buildup, unwanted oil, shine, and perspiration from skin for a more clear, matte complexion. Rose Hip Oil helps improve skin tone and texture. The oil contains antioxidants which fight free radicals responsible for aging. A great way to freshen up without disturbing your makeup.
What it includes: 60 sheets
What you should know: This product is not tested on animals. They are recyclable, biodegradable, paraben free, and talc free. 
Key Benefits:
Absorb excess oil and perspiration for clean, fresh skin
Helpful for blemish-prone skin
Minimize pore size 
Does not disturb makeup
Convenient touch-ups
Will not break or shatter
Compact- takes up no room