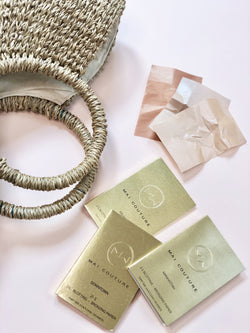 Mai Couture 2-1 Blotting/ Bronzing Paper
SKU: FP-1020
Blot. Bronze. Go.
What it is: Portable blotting paper infused with bronzing powder on one side.
What it does: This travel-friendly, 2-in-1 bronzing-blotting paper duo delivers build-able, sun-kissed color while removing shine in an instant! Ideal for oily skin.
For the ultimate beauty hack, try rubbing blotting paper on scalp as a quick dry shampoo substitute. 
What it includes: 50 sheets
Downtown and Manhattan includes 100 sheets (Limited Time Value)
What you should know: This product is not tested on animals. They are recyclable, biodegradable, paraben free, and talc free. 
Key Benefits:
Remove excess oil and dirt while adding a bronzy glow
Absorb perspiration for clean, fresh skin
Transform dull to radiant skin instantly
Will not break or shatter
Non-comedogenic
Hypo-allergenic
Colors: Manhattan, Downtown. Sin City
Skincare Paper: Blot either side of paper to face without disturbing your makeup.