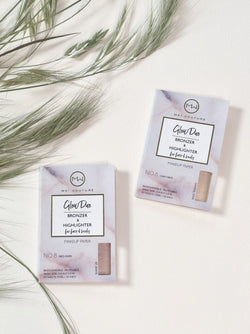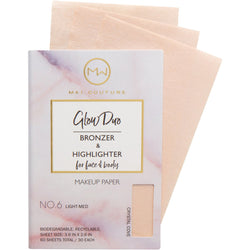 Mai Couture Glow Duo
SKU: FP-1040
hat it is: Portable bronzer and highlighter infused makeup sheets in one book.
What it does: This travel-friendly, 2-in-1 bronzing-blotting sheet duo delivers build-able, sun-kissed color while removing shine in an instant! Ideal for a natural bronzed look with a subtle sexy glow. This innovative highlighter sheet is designed to effortlessly give your skin an extra boost of glow anytime, anywhere. The weightless formula applies seamlessly for a silky radiant finish that will never cake. The pocket-sized booklet takes up no room in your bag and will never shatter.
What's included: 60 sheets (30 sheets each)
What you should know: This product is not tested on animals. They are recyclable, biodegradable, paraben free, and talc free. 
Key Benefits:
Remove shine while adding color
Absorb excess oil and perspiration for clean, fresh skin
Transform dull to radiant skin instantly
Will not break or shatter
Non-comedogenic
Hypo-allergenic
Vegan
Colors:
Glow Duo #6 Light-Med
Crystal Cove 
Highlighter + Downtown Bronzer
Glow Duo #8 Med-Dark
St. Barts Highlighter + Downtown Bronzer