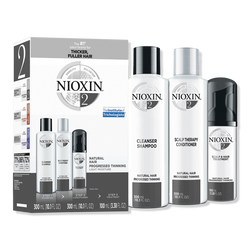 Nioxin Hair Care Kit System 2 for Fine/Normal Hair with Progressed Thinning
SKU: NIX-99240009136
Nioxin Hair Care System 2 Kit for natural hair with progressed thinning amplifies hair structure and protects against hair breakage. This unique set of three professional hair products, based on an advanced skin care approach, is specially formulated as a hair thickening treatment, delivering fuller-looking hair. The Nioxin System 2 regimen reduces hair fall due to breakage, strengthens the hair and delivers a healthy shine to natural hair, while refreshes the scalp. The Nioxin Cleanser Shampoo removes dirt, excessive oil and other environmental residues from the scalp and hair. Nioxin Scalp Therapy Conditioner is a lightweight conditioner that helps provide hair resilience, hydrates scalp and hair from root to tip. Nioxin Scalp & Hair Treatment refreshes the scalp and increases hair volume of every strands.
Follow Suggested Use for Best Results -

Step 1: Massage Cleanser Shampoo into hair and scalp. Rinse thoroughly.
Step 2: Work Nioxin Scalp Therapy Revitalizing Conditioner through the hair, from scalp to ends. Rinse thoroughly to make sure all product is removed.
Step 3: Shake the Scalp & Hair Treatment to activate it, then apply to scalp and work through hair from roots to ends. Do not rinse.
For best results, use the Nioxin System Kit daily on scalp and hair.

Compliment your Nioxin Hair System Kit with Intensive Care products like Nioxin 3D Intensive Hair Booster.