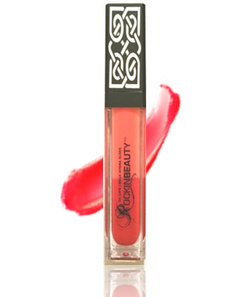 RockinBeauty Hydra Gloss - Diana (8 ml)
SKU: RKN-RB116
PUCKER UP W/COLLAGEN!

3D LIPS HYDRA GLOSS | SUPER HYDRATING PLUMPER | LOADED WITH MICRO COLLAGEN PEPTIDES

DIANA is a beautiful CANDY APPLE RED hydrating gloss with a no-tingle plumping effect. A moisturizing, high-shine lip gloss that supports anti-aging and imparts long-wearing, dewy glass look in a variety of iridescent finishes and reflective shimmers. A Luxurious Lip Gloss which contains Collagen Peptides to speed cell renewal that actually reduces Lip Wrinkles while increasing Lip Volume through painless, non-stinging Plumping Effects. It is rich in moisture, yet light weight to treat dehydrated, chapped lips. Experience a silky smooth, non-sticky texture that will bring immediate moisture and comfort to the lips while resulting in an irresistible sexy pout. Won't feather or bleed.