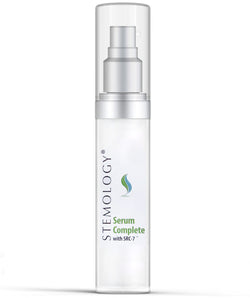 Stemology SRC-7 Serum Complete (1.1 fl. oz. / 32g)
SKU: STEM-10-098
Stemology does it again with this breakthrough all natural formula which addresses all the signs of facial aging, including fine lines and wrinkles, skin elasticity, firmness and tightness, skin tone, pore refinement, skin thickness, collagen, and free radical damage.
SRC-7 – A patent-pending complex of four stem cell technology actives (clinically tested) and three helper ingredients to revitalize our skin's stem cells and improve skin and collagen renewal.
A uniquely rejuvenating serum with both immediate appearance impact, plus long-term appearance improvement
Includes three scientifically proven peptide complexes that are shown by clinical tests to firm and tighten skin, and reduce wrinkle appearance
Addresses all appearance issues of aging skin … thinning skin, collagen loss, loss of firmness, loss of elasticity, uneven skin tone, wrinkles and fine lines, loss of moisture, loss of radiance, enlarged pores, skin softness, and antioxidant protection.
All natural formula with no petroleum derivatives, no parabens, no silicone derivatives, no sulfates, no artificial colorants or fragrances, no GMO ingredients. Contains no human stem cells!
Ingredients:
Aloe Barbadensis (Organic Aloe Vera) Juice, Water (and) Phospholipids (and) rh-Oligopeptide-1 (and) Tripeptide 29, Sea Kelp (Lactobacillus/Kelp Ferment Filtrate) Bioferment, Cichorium Intybus Root Oligosaccharides (and) Glycerin (and) Caesalpinia Spinosa Gum, Hydrolyzed Opuntia Ficus-Indica Flower Extract, Medicago Sativa Extract, Propanediol, Potassium Olivoyl Hydrolyzed Oat Protein (and) Cetearyl Alcohol (and) Glyceryl Oleate (and) Glyceryl Stearate, Yeast Extract, Hyaluronic Acid, Bellis Perennis (Daisy) Flower Extract, Aveena sativa (Oat) Beta Glucan, Boerhavia Diffusa Root Extract, Glycerin (and) Camellia Sinensis (Green Tea) Leaf Extract (and) Camellia Sinensis (Darjeeling Black Tea) Leaf Extract (and) Centella Asiatica (Gotu Kola) Extract (and) Aspalathus linearis (Rooibos/Red Bush) Leaf Extract (and) Camellia Sinensis (White Tea) Leaf Extract, Caprylic Capric Triglycerides, Dimethylsulfone (MSM), Hydrolyzed Pumpkin Seedcake, Sodium Lactate, C13-15 Alkane, Niacinamide, Hydroxystearic/Linolenic/Oleic Polyglycerides, Calanthe Discolor Extract, Lactobacillus/Papaya Fruit Ferment Extract, Swertia Chirata Extract, Water (and) Acetyl Tetrapeptide-11 (and) Acetyl Tetrapeptide-9, Lactobacillus/Lemon Peel Ferment Extract, Glyceryl Glucoside, Lactobacillus/Punica Granatum Fruit Ferment Extract, Lactobacillus/Arundinaria gigantean (Bamboo) Leaf Ferment Filtrate, Panthenol, L-Carnosine, Creatine Monohydrate, Magnesium Ascorbyl Phosphate, Benzyl Alcohol (and) Salicylic Acid (and) Sorbic Acid (and) Glycerin, Vitis vinifera (Organic Grape) Seed Oil, Populus Tremuloides (Aspen) Bark Extract, Argania spinosa (Organic Argan) Oil, Micronized Silver, Symphytum Offcinale Root Cell Extract, Argania spinosa Stem Cell Extract, Ubiquinone, Alpha Lipoic Acid, Xanthan Gum, Coffea Arabica Extract, Alpha Lipoic Acid, Ubiquinone (Coenzyme Q10), Crocus Chrysanthus Bulb Extract, and Acacia Senegal Gum