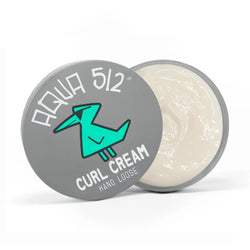 BeautyChoice
Aqua 512 Hang Loose Curl Cream (2.7 oz.)
SKU: AQA-868773000272
Introducing Aqua512 Hang Loose Curl Cream, the perfect weightless cream for curly hair needs! This premium curl cream is an ALL-IN-ONE formula for all hair types and can be utilized (3) three ways. As a pre-styler with heat protectant, a weightless styling product, and a lightweight leave in conditioner. It's infused with a blend of nourishing natural ingredients including Coconut Milk, Hibiscus Flowers, Argan Oil, Brazilian Sea Salt, Deep Sea Minerals, Silk Protein, Apple Pulp, Citrus Extract, and Quinoa Protein.
Size: 2.7 oz.
Features:
Lightweight, non-greasy formula
Adds and locks in moisture and nourishment and locks out humidity
Defines, detangles, and enhances natural curls
Reduces frizz and flyaways
Provides long-lasting hold without stiffness (non-crunchy)
Easy to apply and style
pH balanced
Easily washes out
Weightless and lightweight
Paraben, alcohol, and Sulfate Free
Enriched with anti-oxidants
Benefits:
Leaves curls soft, bouncy, and defined
Nourishes and strengthens hair
Protects against damage from heat styling and environmental stressors
Provides all-day hold without flaking or stiffness
Helps to tame frizz and flyaways
Key Ingredients:
Coconut Milk: Provides deep hydration and nourishment for hair
Hibiscus Flowers: Rich in antioxidants and known for its hair strengthening properties
Argan Oil: A nourishing oil that helps to smooth and add shine to hair
Brazilian Sea Salt: Adds texture and body to hair for a beachy, effortless look
Deep Sea Minerals: Rich in minerals that help to strengthen and fortify hair
Silk Protein: Helps to improve the texture and strength of hair
Apple Pulp: Rich in vitamins and antioxidants that help to nourish and protect hair
Citrus Extract: Provides a refreshing scent and helps to stimulate the scalp
Quinoa Protein: Helps to repair and strengthen hair, leaving it soft and shiny
What it is for: Aqua512 Hang Loose Curl Cream is designed to enhance and define natural curls, while providing nourishment and protection against damage. Our carefully selected blend of natural ingredients works together to leave hair soft and bouncy. With regular use, our curl cream can help to strengthen and protect your hair, leaving you with healthy, beautiful curls that you'll love to show off.