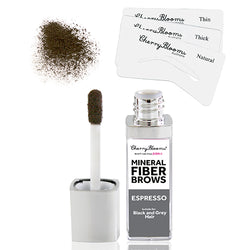 Cherry Blooms Mineral Fiber Brow Kit with Stencils (Latte-Light Beige)
SKU: CRY-00699
A proprietary blend of natural fibers, clay and mineral powder act like instant brows, embedding fibers that fill out gaps and extend length where needed. The semi-permanent formula stays on the surface of the skin and does not absorb in pores making it sweat and splash proof.
PROBLEM: 
There was no product on the market that provided a 3D, natural brow shape that was easy and quick to apply, could be tailored to the individual's coloring and shape preference.
SOLUTION: 
Cherry Blooms designed a Fiber Brow Kit with three different stencils in four different shades. The result is professional looking brows in 10 seconds that is easy to apply and stays on throughout the day and night. The stencil takes the guesswork and out of complicated brow shaping.
BEAUTIFULLY SHAPED, DURABLE STENCILS 
• Perfectly engineered brow stencils compliment all face frames
• Easily create perfect, professional-looking brows in 10 seconds
• Choose from 3 stencils; thin, thick or natural
INGREDIENTS
Talc, mica natural cellulose plant based fibers, polymethyloctadecysilcxane, squalane, diisostearyl malate, phenoxyethanol, fructus acerola extract, rosmarinus officinalis (rosemary leaf extract), tocopheryl acetate, ethylhexyglycerin, clay, iron oxides, ultramarines, yellow 5 lake.