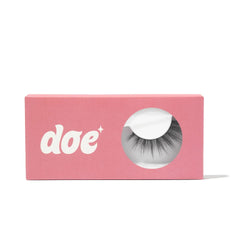 Doe Lashes
Doe Lashes Starry Night
SKU: DOE-850018900614
Crank up the drama with Starry Night, our dual-layered lash set designed for the bold at heart.
Handcrafted to deliver a mesmerizing effect, these lashes promise a sultry allure that's set to last all night! Put them on, let the ultra-fine faux silk fibers work their magic, and get ready to captivate every room you step into.

Lash Style Info
Ultra-fine Korean silk fiber
Lightweight cotton band
Handmade by artisans
Hair Length (shortest and longest): 8mm to 16mm
Band Length: 33mm

What it is: Our 2.0 lashes are lighter and easier to apply than ever before! 2.0 lashes are handcrafted with a thinner, more flexible band to be comfortably worn all day. With proper after care, these lashes can be worn up to 15+ times. Experience true weightless comfort.