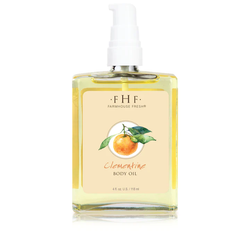 FarmHouse Fresh Clementine Body Oil (4 Oz)
SKU: FHF-0522
A glisteningly-sweet dreamsickle of ripe clementine oranges will lift your spirits! This beautiful vitamin-rich body oil brings an instantly silky, soothing feel to skin. Antioxidant rich Olive Fruit and Grapeseed oils combine with Orange Peel, Jojoba, Sunflower Seed and Apricot Kernel oils to nourish and calm the most sensitive of skin types.
Use in your bath water or apply directly to skin as a light but deeply hydrating body oil. Clementine imparts wonderful benefits to skin as Grapeseed and Olive Fruit oils have powerful antioxidants which diminish the damaging effects of sun, enhance the sysnthesis of healthy collagen and elastin and improve skin's texture. Plus with this delectable scent, you'll be the sweet breeze that blows in!
Clementine Body Oil is 96% natural, and like all our products, it is paraben and sulfate free.