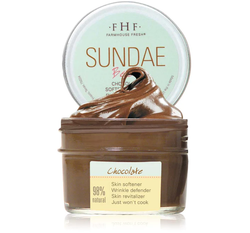 FarmHouse Fresh Sundae Best Chocolate Mask w/ CoQ10 (3.25 Oz)
SKU: FHF-0645
Silky skin is 1 scoop away! Our brand new chocolate mask is a skin softener, wrinkle defender and skin revitalizer- it just won't cook! Sundae Best is a natural, blended active face mask with soothing wholesome ingredients like cocoa, coconut milk and honey in addition to powerhouse enzymes that boost your natural defenses against wrinkles and sagging - including CoQ10, Live Carrot Fruit Cells and Ginseng Extract. This mask leaves your face feeling tight, smooth, and radiant!

Sundae Best temporarily flushes your skin with rosiness. Once the mask dries, rinse it off with cool water, and feel the silky softness. Sundae Best is recommended for all skin types EXCEPT those with roscea (Use Pajama Paste instead). We LOVE it after using One Fine Day Flawless Face Polish!

98% natural, and like all FarmHouse Fresh products, it is Paraben and Sulfate Free.
Ingredients:
Water/Eau, Bentonite, Caramel, Kaolin, Magnesium Aluminum Silicate, Glycerin, Theobroma Cacao (Cocoa) Powder, PEG-40 Hydrogenated Castor Oil, Benzyl Alcohol Natural, Butyl Butyryl Lactate Natural, Ethyl Butyrate Natural, Heliotropine Natural, Laevo Linalool Natural, Maltol Natural, Neobee M5, Phenyl Acetic Acid Natural, Vanillin Natural, Polysorbate-20, Prunus Amygdalus Dulcis (Sweet Almond) Oil, Macadamia Ternifolia Seed Oil, Cocos Nucifera (Coconut Oil), Simmondsia Chinensis (Jojoba) Seed Oil, Daucus Carota Sativa (Carrot) Root Extract, Ubiquinone (Coenzyme Q10), Panax Ginseng Root Extract, Royal Jelly Extract, Lecithin, Xanthan Gum, Decyl Glucoside, Tocopheryl Acetate, Retinyl Palmitate, Ascorbic Acid, Phenoxyethanol, Caprylyl Glycol.