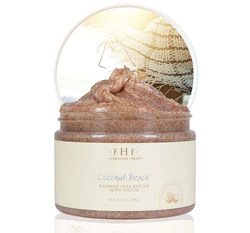 FarmHouse Fresh Coconut Beach Shea Sugar Scrub (12 Oz)
SKU: FHF-0652
Take a trip to the islands with every scoop! This creamy, gentle cleanser whips up on skin, exfoliating with sugar and apricot powder, while moisturizing with shea butter and coconut water. Skin is polished to radiance without feeling tight, dry, or stripped of natural oils. The light pineapple-coconut scent will keep you in the tub or shower all day! Coconut Beach is 90% natural, and like all FarmHouse Fresh products, is Paraben & Sulfate free! 
Skin Type: Recommended for all skin types to remove rough skin.

How to Use: Apply in circular motions to wet skin while in the shower or bath. Rinse well. Use two to three times a week.