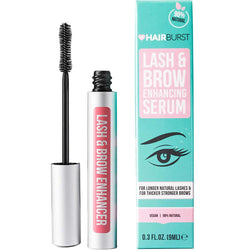 BeautyChoice
Hairburst Lash and Eyebrow Enhancing Serum (0.3 oz.)
SKU: HBT-HB-LASH-BROW-13
A powerful, nutrient-rich growth serum that will improve thin, fine, short or sparse lashes and brows.
The Benefits
Contains active proven to encourage eyelash growth, reduces inflammation, inhibits DHT and stimulates collagen production for optimal results
Thicker, fuller and longer lashes and brows
Safe for everyday use with our unique hormone free formula that is a safe alternative to other serums on the market
Easy mascara wand application
How to use: We recommend using our serum on an evening, once your skin is clean and make-up free. Brush over the lashes and brows and then let this dry in for around 90 seconds before you sleep. If you aren't wearing make-up in the day, you can apply the serum on a morning too for an extra boost. The lash serum should automatically help tame brows and coat lashes in a nice glossy finish, making them look more hydrated and slightly thicker.
Be consistent with your applications and after around 4-6 weeks you should notice a difference in the appearance and quality of your lashes and brows.
How does it work: An innovative complex of Biomimetic Peptide combined with a Red Clover extract. It targets the main causes of hair loss, providing fuller and thicker hair by reducing inflammation, inhibiting DHT, stimulating collagen production and anchoring the hair more effectively. It has proven clinical results specifically for its effect on eyelashes, showing that it can make them fuller and thicker. It was essential when formulating our serum that it worked effectively, but didn't contain any hormone like ingredients that can cause nasty side effects. The Hairburst Lash & Brow Enhancing Serum contains a powerful blend of mostly natural ingredients and will gently but safely to help you achieve thicker and longer looking lashes and brows.