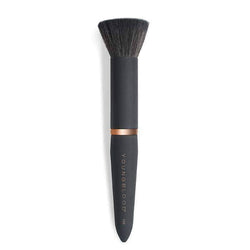 Youngblood Mineral Cosmetics
Youngblood Cosmetics YB6 Powder Buffing Luxe Brush
SKU: 17046
Put your best face forward with our Powder Buffing Brush. The Powder Buffing Brush is a beautifully crafted soft touch brush, hand-made of artist-quality Taklon synthetic fibers. Amazingly soft and expertly precise, the Powder Buffing Brush blends loose foundation for moderate to full coverage. 
How to Use
A flat top blending brush to buff liquid foundation and blend in powders for a moderate to full coverage application. 
Care Instructions
Wash brush with mild soap and warm water. Lay flat and allow to dry completely.